While the dining room is often seen as the heart of the home, the kitchen is just as important, if not more so. When it comes to lighting your kitchen, there are a couple of things you need to take into consideration. First and foremost is making sure that your kitchen has adequate task lighting. A well lit kitchen is essential, as chopping, filleting and cooking in the dark is potentially dangerous.
Your second consideration should be style. Given that many families use the dining room only for special occasions, the kitchen must be a comfortable, aesthetically pleasing gathering space. Here are some quick, easy lighting tips for your kitchen.
Under Cabinet Lighting: If you're kitchen has overhanging cabinets, chances are, your countertops are dark and shadowy. This problem can be easily solved by installing some under cabinet lighting. You can either hire an electrician and have your under cabinet lighting professionally installed, or you can purchase some plug-in under cabinet lights which you install yourself and plug into your countertop power outlet.
Designed to be visually unobtrusive, under cabinet lighting is a subtle way to not only provide adequate countertop lighting, but also to accentuate your space. Under cabinet lighting is a great way to highlight granite countertops!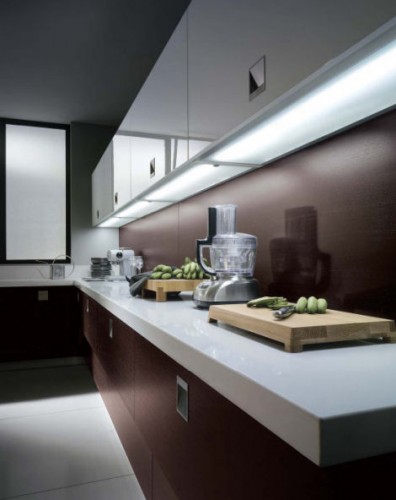 Pendant Lights: Pendant lights are perfect for use over a kitchen table and equally excellent when installed above a kitchen bar or island. Pendant lights are available in a variety of different styles, finishes and colors. From gorgeous and colorful blown glass pendant lights to a contoured stainless steel pendant, these are truly some versatile fixtures. Whether you choose a single pendant light to put over your kitchen table or a 3-light pendant for over your bar or island, pendants are a great way to add a pop of color to your kitchen space!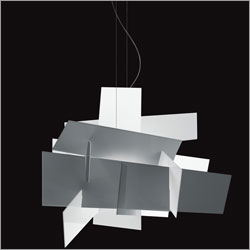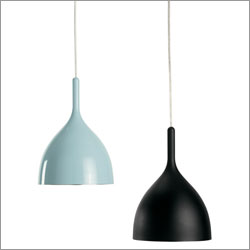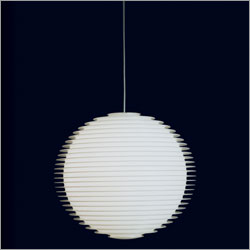 (Pendants lighting via allmodernlighting.com)
While having functional lighting in your kitchen is a good idea, having lighting that is both stylish and functional is an even better idea.